Office | Articles | The Team | Links
---
So who is the dashing guy in the picture above?
Swashbuckling sleuth; seeker of the truth. Digger of dirt; defender of the red shirt. Voice of the voiceless. Conqueror of corruption. From the cleaner with the broom to the suit in the boardroom -- no one can evade my endless crusade.
The squares think I'm on their side, but to my fellow truth-seekers, do not be fooled by my elaborate act! I have infiltrated the deep abyss of these ruthless capitalists as an ordinary human clutching on to the tattered remains of the American Dream.
I ask you all, do you want to stay alive and stop being a sheep? Drink some coffee. Read my web page. Together, we can help you wake up from your sleep!
---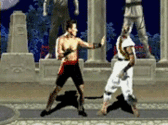 Johnny Cage
Hollywood movie star. Every one's seen at least one of his films. He was one of our top agents before he was killed during a martial arts tournament. You can read about it here.
---
Elwood Blues
Getaway driver. Wears sunglasses at night.
---
Site design by S. W. Argyle © 1996-98